Ring Caravaggio-Bernini
Pearls & jade | Large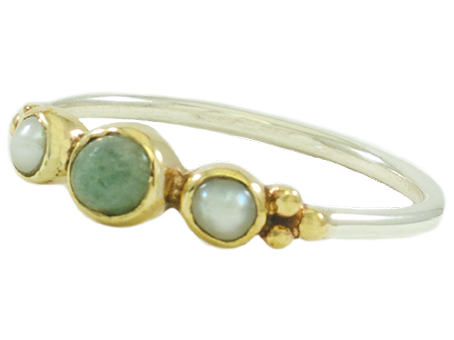 Your purchase supports the Rijksmuseum
World wide shipping
Secure payment
| | |
| --- | --- |
| Article number | W16667 |
| Article group | W4 |
| Category | Edelstenen |
Your purchase supports the Rijksmuseum
World wide shipping
Secure payment
This ring contains 2 freshwater pearls with jade in the middle, all with a size of 3 mm. For this ring, the 'Gold Filled' technique was used: a combination of gold/silver and copper, to keep the mount firm and golden.

Size: large (18.5 mm)
(br>Especially for the exhibition Caravaggio-Bernini the Rijksmuseum has purchased a unique jewellery collection. This collection is designed by Saskia Schellen and is a perfect match to the exhibition when it comes to color and style.

Saskia is inspired by the romance and luxury of the 17th century in Amsterdam with influences from the East. Indian, Etruscan and contemporary styles are combined with the collection of the Rijksmuseum.

The jewellery items are handmade in the Indian city Jaipur by a team of dedicated goldsmiths from the Thar desert. Jaipur is wellknown for its long history of craftmanship and jewellery design.